-->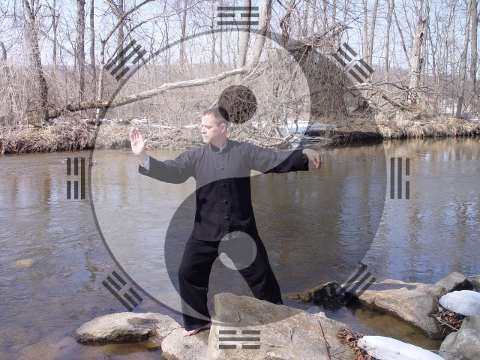 United Internal Arts

Founded by Christian Samuelson, United Internal Arts is an organization dedicated to the advancement of the Chinese 'internal arts'; Tai Chi, BaGua, Hsing I, and Qi Qong. Located in the West Chester, Pennsylvania area, Christian teaches both group instruction classes, and private lessons. In the warm months, many classes will be taught outdoors. Click the schedule tab for details.
What are the Internal Arts? The Internal Arts constitute an ancient practice that unites the mind, body, and spirit into full focus. A practitioner may arrive at an understanding of total presence in their body after years of sweat and dedication. The human body is a perfectly connected structure that cannot be separated into parts. Although we can conceptualize its unique features, we cannot actually take it apart and put it back together again like the components of a car and expect it to function. Of course this is common knowledge, but common speech describes our head, hands, feet, and torso as separate pieces as if they do not depend on each other for functionality and movement. Click
here
for More.
Schedule Of Classes

| Day | Location/Time | Location/Time |
| --- | --- | --- |
| Monday | | Tai Chi 6:30-7:30 PM, KoKiKai Aikido Studio*** |
| Tuesday | | |
| Wednesday | | Tai Chi 6:30-7:30 PM, KoKiKai Aikido Studio*** |
| Thursday | | |
| Friday | | |
| Saturday | | Qi Qong 9:30-10:30 AM, KoKiKai Aikido Studio*** |
| Sunday | | |
***The Kokikai Aikido studio is located at 1209 Ward Ave #200B, West Chester, PA (by the West Chester Airport)

Available for private and group instruction.
Fee Listing provided upon request.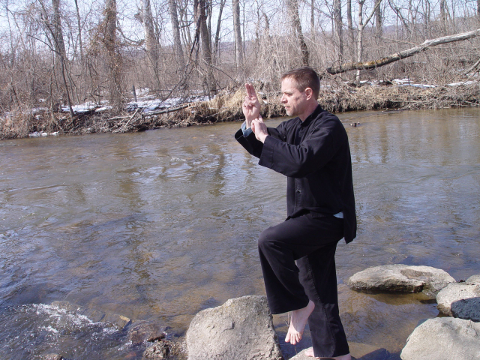 Our Mission
To foster a healthy community of enthusiastic students of the internal arts, improve balance and flexibility, encourage graceful aging and bone density, and to foster social connections-healthy spirit and body.
Serving Chester County, Pennsylvania students of the internal arts (Tai Chi, Qi Gong, Ba Gua, Hsing-I) with certified instructor Christian Samuelson.

Yang 108 long form. Instructional classes around the Exton PA and surrounding Chester County area, including YMCA's, churchs, community centers and Pharmacies.

Beginner, intermediate and advanced level.

Yang traditional 108 long form practiced.

Certified and insured instructor with 10 years experience.



Professional Experience/Bio for instructor Christian A. Samuelson:


• Student/enthusiast of various martial arts since age 12

• Age 12-21 studied Jiu-jitsu and Tae Kwan Do

• 3/325 Airborne Combat Team, veteran of Desert Storm and Persian Gulf War

• Training and practicing since 2002 in internal arts from practitioners Dr. Al Tolbert of Dragon Gym (Exton PA), Master John Armstrong (Philadelphia) and Master Wei Lun Huang (Miami FL)

• Experience in the following disciplines: Tai Chi (e.g., Yang Traditional 108 Long Form), Qi Gong, Ba Gua, Hsing Yi and Reiki healing.

• Insured

• Certification to teach earned at Dragon Gym (Exton PA) and course-completion certifications from Master Wei Lun Huang (Miami FL)

• Has taught internal arts at Dragon Gym (Exton PA), the Department of Health (Exton PA), Chester County Government Service Building (West Chester PA), Lionville Community YMCA, for senior citizens at the Potter Building and Bernie Hankin Building (Eagleview Town Center, Exton PA), two years special needs/young adult at Camphill Soltane (Glenmoore PA), the outdoor labyrinth in the Weatherstone community (Chester Springs PA), St Peters Church (Chester Springs PA) and Lionville Natural Pharmacy (Exton PA).

• A family man and avid outdoorsman, Christian and his wife and children make their home in West Chester PA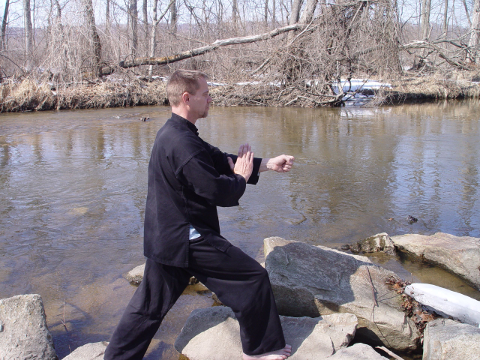 Contact
Email: C2Sams A T Gmail.com
Phone: (484)-368-6845

FaceBook: https://www.facebook.com/UnitedTaiChi.chesco

NewsLetter: https://unitedtaichi.wordpress.com/